Decoration with 24-carat gold, nails that resemble an aquarium, floral prints, natural effects, or a French manicure full of colors… Attention manicure lovers! The season promises, because the explosion of creativity takes over your hands and it's time to apply that new tone, that technique or that decoration to your nails. There is something for all tastes and here we offer you a little inspiration with the most outstanding proposals from some beauty salons in Madrid and Barcelona.
read also
Tricks for heat-resistant makeup and masks
Roxana Ibanez Machado
From Yves Rocher they also suggest bright colors such as orange-coral, red, pink, intense mauve or white, which continues to be the iconic color.
Shades such as pink, peach or vanilla will be the best allies when it comes to accentuating the tan. The most intense and classic colors such as red or blue will be ideal to give prominence to your nails at night, according to The Secret Lab salon.
While for the experts at the Mi Calle center in New York, yellow, salmon or pale orange and very light nude tones are the big bet for spring. But one step further, that is, in summer, the bet moves to the most powerful tones, without reaching the fluor that was seen so much last year, but approaching with fuchsia, orange and, in the case of blue , one more water color, they point out.
Russian, Japanese, detox manicure... Which one do you choose?
In addition to the variety of designs and colors that can be worn on the nails, care for them counts. Beyond the already known manicures, such as French, acrylic, semi-permanent..., there are other methods and techniques to fine-tune the hands. Let's see which are the ones that are imposed this season:
russian manicure
Although it is not new, it is one of the most successful this year. And more and more salons incorporate this technique, to which many Spanish women have already surrendered. But… what exactly is it about? It consists of treating the cuticle area to perform a deep cleaning of the nail. In other words…to remove the cuticles completely! The polish is then applied as close to the nail as possible, which will allow the manicure to last longer without noticeable nail growth (approximately three weeks). Finally, the nail is hydrated with cuticle oil. And ready, to show off your perfect nails! Of course, it is a complicated technique that requires meticulous work, since the cuticle is filed with an electric drill and different shapes of burs/drills, and the nails are thoroughly cleaned. . Therefore, not everyone should do it. And it is also not advisable to remove the nail polish yourself because it can be done inappropriately and cause part of the nail layer to be lost. It is best to put yourself in the hands of manicure professionals, warns Sofya Khasanova, director of Siberia Salón, a Madrid center dedicated specifically to this technique.
japanese manicure
If your thing is to wear your nails as natural as possible, you will like this Japanese technique, which is more than four centuries old and which in its beginnings was exclusive to the Japanese aristocracy. It is the best way to keep your nails healthy and with a natural shine. In addition, it allows repairing even the most brittle ones, since it nourishes them and gives them back a healthy and clean appearance, they explain from The Secret Lab. "Nails that are well groomed and filed in an oval or rectangular shape, short, not excessively long and with a natural effect they are the trend of the season", point out the experts of this Madrid salon. Our nails need to be purified to repair their structure in the face of the damage suffered by the abuse of semi-permanent, gel or acrylic manicures, and other external agents that damage it. And the Japanese manicure is a treatment that rejuvenates, moisturizes and beautifies the nail. It is not glazed, but the result is a luminous cleaning with an extraordinary polish that can last two weeks. Then you have to use cuticle oil daily to maintain the health of your nails, points out Alejandro Ramos, creative director of Mi Calle de Nueva York. "It is the ideal manicure for those people who want to reach summer with their nails at 100% because they know that they will not be allowed to rest for months," adds the expert. From The Secret Lab they explain that the treatment consists, first of all, in file the nails to suit each person and, if necessary, remove the cuticles. Subsequently, to prepare the nail, it is massaged with moisturizing cream and then, instead of enamel, a paste formulated to nourish to the fullest is applied to each nail! (beeswax, diatomaceous earth with antibacterial properties, vitamins A, D and E, and marine silicon powder with keratin). Then the nail is polished with a chamois to ensure that the paste penetrates and the nail is smooth, free of bacteria and without inflammation. To finish, pearl powder of marine origin is applied with fortifying properties and nutrients that leave the nail with a polished and shiny finish.
detox manicure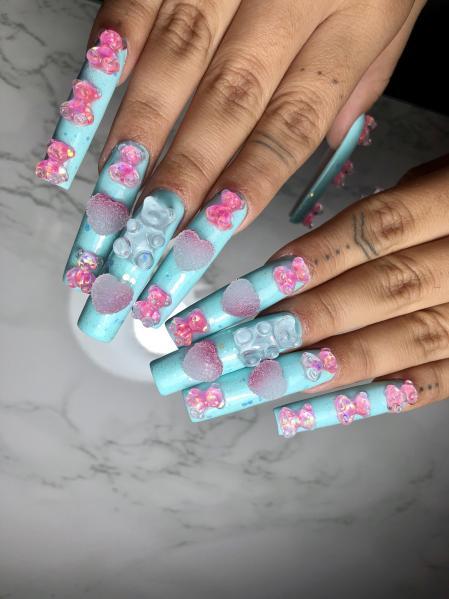 Ideal for those who need to detoxify and strengthen the skin and nails, especially at the time of change of season. It is made based on green tea to eliminate the toxins that the skin accumulates. The peeling, the mask and the moisturizing cream also contain polyphenols that reduce the effects of aging. And to avoid breakage in the nails, they are protected with a special base, they explain from Mi Calle de Nueva York, which has baptized this treatment as Back To The City. Of course, then the daily application of light moisturizing lotions and cuticle oil is recommended, they indicate.
Traditional vegan manicure
For those who run away from designs and are looking for something more classic, the vegan manicure is your option. This is the traditional manicure, which consists of cutting, filing, removing cuticles, moisturizing massage and enameling. But it comes with a plus: it is made with 100% organic products that do not damage the nails, explains Kolor Nails, a salon that offers this service in Barcelona.
Trends in 'nail art' or nail decoration
The possibilities to show off the so-called nail art (decorated nails) are endless. If not, ask Rosalía, she always goes one step further with new trends. And there are from the most daring and luxurious to the minimalist or classic. These are the ones that are sweeping beauty salons:
24k gold decoration
A most sophisticated proposal. What yes! Pure gold? Totally 24 karat. It matches the minimalist style and can be applied all over the nail or just as a more subtle effect. In both cases, it will give us an exclusive and striking decoration that lasts up to four weeks, answers Ioana Cristescu, who has an academy and a salon that bears the same name as hers. "The decoration with 24k gold foil is versatile and consists of applying the foil or gold leaf on the surface of the nail according to the desired design," adds Cristescu, whose salon in Barcelona offers this luxurious nail decoration.
'Aquarium Nails'
When we talk about designs and decorations, the imagination flies. An example is the aquarium nails, which are very summer nails and literally simulate an aquarium. This is one of the proposals made by Nail Tex Studio (@nailtexstudio), the Madrid salon attended by clients such as Lola Indigo, Blanca Suárez, Úrsula Corberó... and which accepts reservations only through Instagram. But, how do you get the aquarium nails? They are sculpted acrylic nails. At the time of its construction, a kind of space is created within the same nail to be able to put the water, the glitters or the desired figures. And so that they move without a problem, a little oil is also added. Then the tip of the nail is covered with acrylic so that the product does not come out. And ready! Of course, by carrying so many things, the thickness of the nail is greater, they warn from Nail Tex Studio.
Flowers
From the Barcelona salon Hello Nails, they propose very spring-like designs that combine bright colors with flower decorations. For example, what do you think of the combination of pastel yellow with white daisies? You can also resort to shades such as lilac, green, pink or blue. "It can be worn with a semi-permanent manicure that lasts between two and three weeks," say the experts at Hello Nails.
geometric drawings
Another option is the large geometric drawings of different shades, with a lot of color on short and long nails, they say from Kolor Nails. "To achieve these designs, we work with a semi-permanent manicure for the theme of nail decoration, and so that one or another layer dries much faster and to be able to paint other colors," they add. For its part, from Siberia Salón they bet on nail art with transparent tones impregnated with geometric details with different oval shapes and in pastel colors. For example, some drops that are drawn with tones typical of the season.
The French is dyed in colors
This season the French manicure is no longer exclusive to white and joins the color fever. It can be worn in a thousand ways! Like the Hello Nails proposal, which combines it with different shades and bright colors, like the ones in the photo. Siberia Salón's suggestion is to opt for the smile line with pastel colors and green in all its shades: pastel, mint , avocado…
Stiletto, almonds, ballerina...
Very long, striking nails with a mix of creative decorations will also have a lot of presence this season. And if you wear them almond-shaped (oval in the shape of an almond), stiletto (long and pointed) or ballerinas (long and rectangular at the tip), which also stylize the fingers, it will be a sure hit!, point out from Ioana Cristescu Nail Shop & Academy. Of course, these artistic nails need a lot of care, both for maintenance -it is recommended to take them for a maximum of two weeks-, and in daily handling, because being long they run the risk of breaking and damaging the nail matrix, they remember.
Other options to inspire you
At Nail Tex Studio, they also opt for striking decorations such as tie dye, which imitates the tie-dye technique of clothing.
Iona Critescu points out that she also loves minimalist design, especially combined with this season's Pantone choices, yellow and grey.
Other proposals from Mi Calle de Nueva York are spring motifs, fun and soft, and they predict that discreet shine that stands out in the sunlight will dominate once summer arrives.
From Asia comes the tortoiseshell style to take over the good weather, like that animal print proposed by Siberia Salón.
Rhinestones or figures in relief never fail if you want to show off original and striking nails, say the experts at Nail Tex Studio.
Another suggestion from The Secret Lab is to bet on minimalist effects and prints, with combinations in pastel or even transparent tones, with small striking details such as crystals, flowers... Maximum sophistication!
- And why not paint each nail with a different color? Specialists advise taking advantage of the pastel tones that are imposed at this summer time.
read also
How to combat dark circles, wrinkles and bags now that, with the mask, the eyes monopolize the eyes
Roxana Ibanez Machado
Everything you need to know about intimate hair removal
Roxana Ibanez Machado