What are we talking about when we talk about sustainable fashion? Social and environmental responsibility. Two terms that years ago were not in the vocabulary of the textile industry and that nowadays, more and more, are tracing and guiding its path.
"Sustainable fashion promotes a balance between the social, economic and environmental aspects. It does not stop being more than balance in a totally unbalanced world where the textile industry is the second most polluting in the world", Laura Opazo details in dialogue with VOS. Laura is considered a guru of sustainable fashion in Spain and since October she can be seen on the Más Chic screen with the series For every occasion, a proposal in which she, together with other experts, advises women so that they learn to dress.
"Sustainable fashion is taking more and more place in the industry and is on its way to becoming the rule, not the exception. But this phenomenon is not only happening in fashion, all industries are turning to become more sustainable. Fashion obviously has an emergency because it is highly polluting and precisely for this reason it should be one of the industries that leads this change. It is a change that must be implemented quickly and without pause. But clearly not all brands do it the same way. There are many giants whose shifts are more progressive and slow, and other brands that can afford faster shifts because they are smaller. But I think that it is no longer an option, it is not an alternative, it is an obligation, one of the directions in which the fashion industry is heading and the rest of the sectors as well", he analyzes.
– What do you think of the preconception that sustainable fashion is not aesthetically pleasing?
– I could tell you that I agreed that ethical fashion is not always aesthetic until 2017. Currently, there are many brands that were born with this new DNA and other firms transformed their processes to make them as sustainable as possible. There are more and more discerning people creating beautiful brands that make fabulous designs so I think this is a misconception that is part of the past.
"It is true that sustainable fashion can have that hippie or bohemian touch, but this has its reason for being because in the 70s, when all this environmental concern began, that was the prevailing aesthetic. But currently sustainable fashion caters to other types of aesthetics as well. There are brands that meet the tastes of those who prefer more sober or avant-garde clothes. Today, sustainable fashion is very plural", she explains.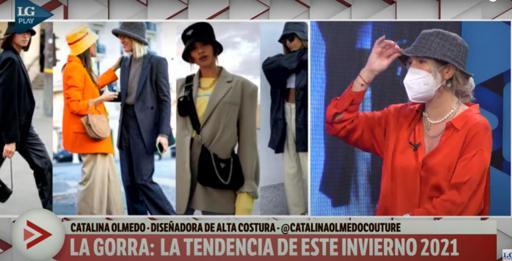 In addition to sustainable fashion, vegan fashion is a term that is currently in vogue, but Laura clarifies that vegan fashion is not necessarily sustainable. "The interesting thing about vegan fashion is that it does not use raw materials derived from animals. There is no animal exploitation, but the problem is that many times this industry uses eco-leather derived from plastic, or a plastic substitute, to replace leather, and that is not very sustainable. There are ways to make vegan garments without resorting to plastic, but not all brands do it", he distinguishes.
The Tyranny of Trends
"Trends exist because the industry needs to sell. They create a need for you. Throughout history there have been trends that have accompanied and continue to accompany social changes, but it is impossible for trends to accompany social changes if they are generated every two weeks. That is already an invention of the industry to encourage us to consume", says Laura, who defines herself as a strong detractor of "what takes". "I am not interested in trends, nor to specify what is worn, what is worn is to be an intelligent and conscious consumer, to know how to get the best out of your wardrobe, to have personality and to know how to reflect it, because ultimately fashion is a language, a declaration of intent, how we dress speaks volumes about us".
In addition to being an image consultant and stylist, Laura is a publicist and knows the "behind the scenes" that encourages the creation of trends to generate needs and greater consumption. For this reason, she is a standard bearer when it comes to encouraging intelligent and conscious consumption. "Human beings are currently subjected to more than three thousand advertising inputs from social networks, outdoor advertising, or even the series they watch. We are so saturated with advertising that we don't end up discriminating between what we like and what we don't", he explains and continues: "If you work on self-knowledge, if you know yourself better, you will hardly be so influential. If a person knows himself and is clear about his tastes and his aesthetic and cultural references, it doesn't matter what they say and unless it is something that really suits his essence, he will not succumb so easily.
"In addition to self-awareness, in order to make intelligent consumption it is important to encourage creativity. Creativity is not a gift that some of us have and others don't. It works, it is a muscle that develops. You work with things as silly as having a different breakfast every day. The issue is that we live in a society where everything goes very fast, where we try not to think too much because our daily worries exhaust all space and time. We like that they give us everything quite chewed up. By the time you work on creativity, you get used to seeing alternatives in routine things, and you end up seeing possibilities in your closet as well. When you work on creativity, you will end up combining clothes in ways that are not traditional or standard, and that will expand your wardrobe much more and you will use what you have more," she explains.
–When it comes to recommending, it is very delicate to fall into classifications such as "a certain garment is for a certain type of body". In your case, how do you base your recommendations?
–Totally. I think that the classification of the body as pear, cylinder, inverted triangle and so on is a bit unfair because it also only occurs in the case of women's bodies. I have never seen that classification made towards the body of men. That seems absurd to me. But what cannot be denied is that each body has different volumes. This is not good or bad, it is a product of the diversity of bodies and, depending on where you have the volumes, the clothes can help you with certain issues depending on your preferences. You can mark the volumes, attenuate them, depending on what you are looking for, there are garments that will help you achieve those optical effects. From that place it is interesting for me to talk about volumes. To see how to play with them to enhance the traits that the person wants to highlight. But every recommendation is based on a previous conversation with the person and an understanding of their tastes and preferences and interests. You have to advise according to their needs and potentialities.
To watch
For each occasion is broadcast on Saturdays and Sundays at 6:00 p.m. by More Chic.