-------------------------------------------- -----------------------------------------------
----------------------------------------------- --------------------------------------------
It's spring. The days are longer and the garments shorter. With the end of winter, the wardrobe opens up to vibrant colours, light fabrics and more relaxed patterns. T-shirts, shorts and sandals become the most repeated uniform on the streets and beaches but... beware, there are changes!
This season we will travel to the modern 60s, a time of change, innovation and renewal. The miniskirt is the icon of that decade and now the dresses and coats pay tribute to it, shortening as much as possible and as much as decency allows. Word of Raf Simons. Led by Hedi Slimane, Dior's creative, we will take a big leap back to the seventies to recover the bohemian look, with boho dresses, bows, fringes and comfortable chiffon that create fun volumes when walking. With Dsquared2 we will lose our minds on the dance floor with looks from starry stars from the 80s like Sabrina or Latoya Jackson.
Céline stops at the 90s to reinterpret minimalism and Gucci recovers the sensuality that Tom Ford injected into the house in that decade. In those years Galliano arrived at Dior and nothing was the same. But now Sarah Burton makes McQueen the most desired label and creates dream dresses with invented volumes, fantasy silhouettes and blue blood fabrics.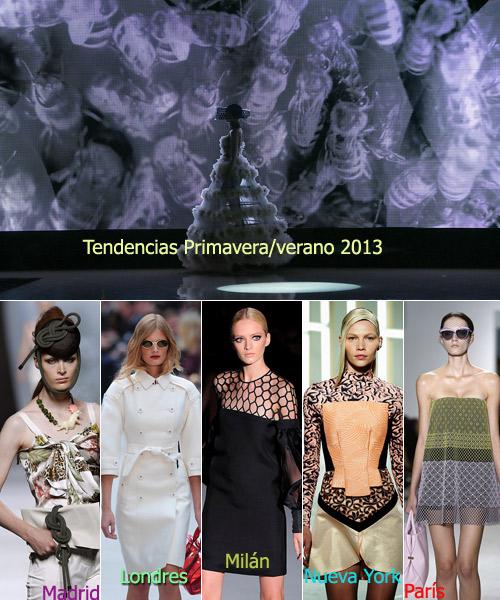 On the other hand, there are few novelties in the prints. The garments continue to be filled with flowers, squares, stripes and animal skins. The Mix is ​​More arrives with force and the clearest trend is to combine without order or concert to achieve an outfit that powerfully attracts attention.
Leather garments demand attention and denim shows its softer, almost adolescent side. Applications of all kinds of materials, openwork and die-cutting, mesh fabric and metallic textures are on the rise. Reflections of gold, silver and copper coexist in the wardrobe with the entire range of tones that goes from pink to red, yellow and emerald green, the color that Pantone chose for 2013. It is worn, and a lot, but just as much as white. This color once again stands out in the chromatic palette, alone or living a beautiful romance with black. And it is that the checkerboard look is the sensation of this season, so place your pieces on the board because... the game begins!